Snowboarding is often compared to both surfing and skateboarding. In snowboarding, a laminated board with a metal edge is strapped to the snowboarder's boots. The metal edge allows the snowboarder to carve the snow. Equipment usually varies depending upon the style of snowboarding preferred. Longer boards are faster. More flexible boards are better for tricks.
While some snowboard competitions focus on racing, most involve the freestyle form. Freestyle boarding usually entails jumps, spins, turns, and other tricks. Just like in skateboarding, half-pipes, rails, and other manmade objects can be used in freestyle snowboarding. The X-games is a popular contest where professional freestyle snowboarders perform.


ALASKA KID TIP:
"Make sure to always keep your arms out for balance."
- Rebecca D.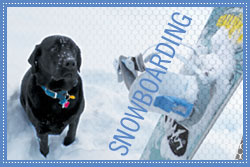 When you're on powder, you are just flowing.
- Rosie Fletcher
(Rosie won a bronze medal in the 2004 winter Olympics.)