The sport of volleyball uses a tall net and an inflatable volleyball. A volleyball game can be played with up to six players at one time on an indoor court or an outdoor sand court. Volleyball players serve, bump, set, and spike the ball to win points. If the ball lands on the ground inside the court, the point goes to the other team.
Volleyball teams are split into two sections—the front row players and the back row players. The front row players work to hit or spike the ball down on the other side of the net, and also try to block the hits of the other team's players from coming over. The back row players focus on defense by making sure the volleyball never hits the ground on their side. Because of the height of the net, the best volleyball players are usually tall and coordinated.



ALASKA KID TIP:
"Keep your arms out in front of you and stay low. Also, don't forget to pass to your teammates!"
- Jessica H.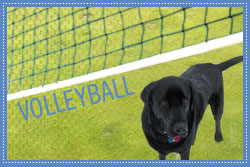 Physically I'm not as strong as I was, but I try to make up for it mentally. It's a big challenge, and I relish it…
- Karch Kiraly
If I break records along the way, then it is nice, but I don't think that's why most of us are here.
- Cat Osterman