Gymnastics is a sport that requires extreme flexibility, balance, and strength. There are many competitive events. Men's gymnastics include high bar, pommel horse, rings, floor exercise and vault. In women's gymnastics, there are floor exercise, vault, balance beam, and uneven parallel bars.
The floor exercise, present in both men's and women's gymnastics competitions, is performed on a springy surface and involves tumbling, dance, and acrobatics. For the vault, also performed by men and women, gymnasts sprint onto a trampoline-type board where they spring to a vault and then push into a landing. High bar, parallel bars, and rings involve swinging and rotating the body. On the balance beam—a narrow beam usually five meters in length—gymnasts perform routines of jumps and spins.
Competitions are divided by skill level. While competing, gymnasts perform their choreographed routines in one or more events in front of judges. There are point deductions on a scale of ten for errors in form or lapses in composure.


ALASKA KID TIP:
"You should watch your thumbs during a handstand. Use your fingers and the heel of your hand to balance. Also, show respect for your coaches."
- Aden M.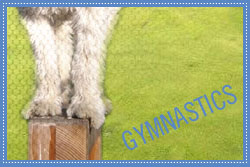 Other people may not have had high expectations for me, but I had high expectations for myself.
- Shannon Miller