Swimming is a year-round sport for all ages. Swimmers who want to compete should consider joining a school or city league team. Team swimming competitions are called "meets." Divisions at the meets are determined by both age and gender. Swimmers race in different events—which vary by distance and stroke—against other swimmers in their division.
The team aspect of swimming involves relay races. There are two types: the medley relay and the freestyle relay. In the medley, four teammates each swim a different stroke for a predetermined length (for example, down the length of the pool and back) while racing against other teams. In the freestyle relay, each swimmer swims freestyle. The fastest team wins.
Most swimmers have a favorite stroke. The four types of strokes practiced for competition are freestyle, backstroke, breaststroke, and butterfly, which can all be learned from a coach or an instructor. Swimmers engage all of their muscles while swimming and therefore need strength and endurance. Over time, lung capacity is also increased by training.


ALASKA KID TIP:
"In swimming it's very important to keep your breath even and never forget to kick with your feet."
- Chelsea K.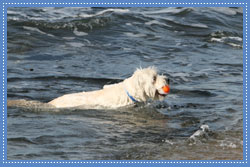 I won't predict anything historic. But nothing is impossible.
- Michael Phelps