Soccer, the sport also called football outside of America, is officially played with a leather or vinyl ball on a field with two netted goals. The object of the game is to score by getting the ball into the other team's net.
Soccer players usually specialize in a certain position. They either play offense, defense, or goalie. The main task of the offense is to score. The defense players keep the ball away from their goal and also try to move the ball up the field to the offense. Goalies are defenders, and their job is to work with the defense to keep the ball out of the net. With the exception of the goalie, players cannot use their hands or arms in soccer, but any other body part may be used to strike the ball.
Quickness, endurance, and coordination for good footwork are important for the competitive soccer player. Most soccer practices teach a player how to stop the ball, how to pass, how to dribble around opponents, and how to shoot and "clear" the ball out from the goal.



ALASKA KID TIP:
"In soccer always be ready for the ball to come to you. Keep the ball close when you are dribbling down the field."
- Annie I.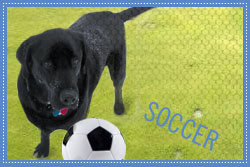 And to learn, you have to be willing to push yourself.
- Brandi Chastain