Football is played on a 100-yard field which is divided every 5 yards by yard lines. Located at opposite ends of the field are end zones and goal posts used for scoring. A team's offense is responsible for scoring points during the game. They advance down the field by either passing the ball or running the ball. The offense has four chances, or "downs," to advance ten yards in order to get a "first down." If the offense continues to move the ball to the end zone, they score a touchdown, worth six points. The defense is responsible for stopping the other team from scoring by tackling.
Each team can have only 11 people on the field at a time, but players are rotated depending on whether offense, defense, or special teams (kickers and punters) are needed. Football is a versatile game for athletes. For example, defensive positions on the field require strength, yet offensive positions require speed, agility, and hand-eye coordination. For special players, such as the quarterback or the punter, distance and accuracy are needed for throwing and kicking.


ALASKA KID TIP:
"In football the most important thing to do is to listen to your teammates so you know where to be for every play."
- Kyle D.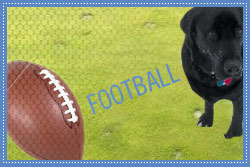 Set your goals high, and don't stop till you get there.
- Bo Jackson