Fishing is the sport of catching fish from a water source, whether it be a lake, river, or an ocean. Although there are many methods of fishing, all require patience. Recreational fishermen usually use a fishing pole for angling—a style of fishing that involves a hook and a line. "Bait" (such as worm or pieces of other fish) or "lures" (artificial objects), are often attached to the hook to attract the fish. Other types of fishing include spear fishing, hand-gathering, and fishing using nets.
Fishing competitions take place during fishing season. Winners are determined by the weight and type of fish caught within the designated areas. Just like recreational fishing, competitors in these contests must follow the rules and regulations set by the Alaska Department of Fish and Game for conservational purposes.


ALASKA KID TIP:
"When fishing you have to be patient. Some days the fish will be biting and some days they won't."
- Jack L.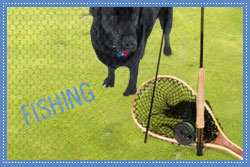 From birth to death, anyone can fish.
- Rex Hunt