Downhill skiing is a sport that involves gliding over snow with a pair of skis strapped to the feet. Skiers wear hard boots that attach to the skis for control during the descent. Poles are also useful for navigating the mountain. Beginning skiers might consider learning on small, groomed hills such as those found at a ski resort.
For competitive downhill skiers who have mastered carving and racing, there are two major categories: slalom and giant slalom. In slalom, the racers maneuver between poles by making small, quick turns. In Giant Slalom, the poles the racers ski between are spread farther apart so that the skiers have to make wider turns than in regular slalom. After several races, or "heats," the competitor with the fastest average time is declared the winner.



ALASKA KID TIP:
"Keep in a low tuck when going for speed and always remember: 'poles to the side not out wide.'"
- Trina S.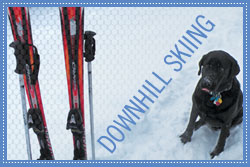 You've got to be hungry and want to win.
- Tommy Moe
(Tommy won a gold medal in the 1994 winter Olympics.)