Hockey is a sport played on ice with skates and hockey sticks. There are five players per team. Each team has a net guarded by a goalie. With their hockey sticks, the players guide a puck on the ice and try to pass it through the opposing team's defense or shoot it into the goal. At the end of the game the team with the most goals wins.
Several different kinds of penalties are present in hockey, some of which include tripping, elbowing, and fighting. When players commit a penalty, they have to spend time in the penalty box. If the game is tied when time runs out, then an overtime is played. If the game is still tied at the end of overtime, there is a double overtime, and then a "shootout." A shootout is when players will individually shoot at the opposing team's goal to try to score a goal.


ALASKA KID TIP:
"Keep your knees bent while skating and keep your stick on the ice so that you're ready when the puck is passed to you."
- Jimmy C.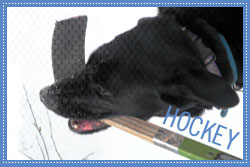 Continuous effort - not strength or intelligence - is the key to unlocking your potential.
- Liane Carlos